The completed years option provides a historic record of internal assessments for cohorts who have completed the Key Stage. For example, internal assessments for last year's Year 2s, who are now in Year 3, or Year 6s who are now in Year 7.
The completed years can only be viewed and can no longer be updated.
Completed years
Hover your cursor over the 'Pupil tracking tab'
Click on 'Enter assessments' or 'Create & edit assessments'

Click on 'Completed years'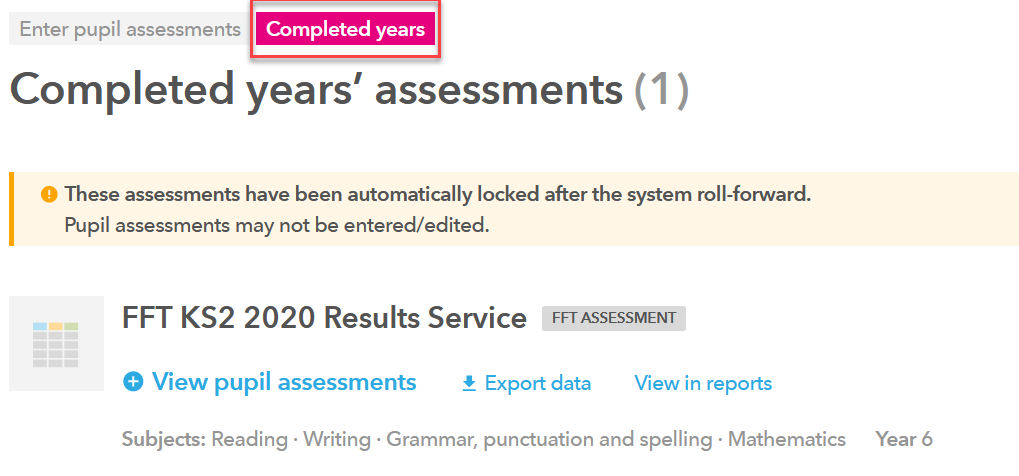 The list of completed assessments is then shown (please see above example)
From the list of assessments shown, you can then filter the list of completed assessments by Key Stage or search by name (which is shown on the right)

Select the assessment you want to view and click 'View pupil assessments'
Note: The assessment entries are automatically locked down after the system roll-forward, so these cannot be amended.
Export and View in reports
You have an 'Export' or 'View in reports' option.

The 'Export' option will export the grades (and scaled scores) entered to Excel.
You can also click 'View in reports' which will show you a subset of reports which include the following: Summary, Year Groups, Classes, Pupil Groups, My school groups (if any were previously created) and Pupils