There is a new design of the FFT Aspire home page and this incorporates a new left hand navigations with new icons. This is already live with schools in Wales and is coming soon to schools in England.
All your FFT reports, services, settings and admin can be accessed from our new collapsible menu. The applications that are shown are tailored to the individual that is logged in. Some items will not show, as this will be based on your access rights and your school.
Left hand collapsible menu
Home page icon

Settings icon (previously 'my profile' for updating your own settings)

Administration icon (previously a spanner icon)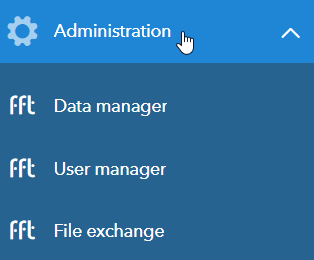 The administration contains 3 new sections:
Data manager – for checking your data connection via Data Exchange
User manager – for adding, removing users, resetting login accounts
File Exchange – for upload services, e.g. the Early Results service
Minimise icon (to just show the icons on the left). Click on this if you want the menu to collapse to just show the icons.

Maximise (to show the icon and the name of the application). Click on this if you want the menu to remain expanded.