Delete pupils
Log into the Aspire site https://fftaspire.org
Select the Administration icon in the top right hand of the screen and a menu will display on the right side.

Under 'Manage data', select 'Pupils & Classes' and 'Delete pupils manually' from the dropdown options.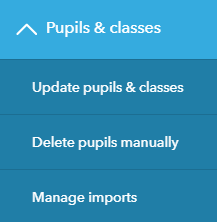 Select the Key Stage and Year Group using the dropdown.

Select the pupils to be deleted by clicking the 'Delete' icon.
The 'Delete' icon will be highlighted for each pupil selected.

Once all the pupils to be deleted have been selected, click the 'Continue' button.
The 'Check and confirm pupils to delete' page displays details of all the pupils highlighted for deletion.

Amendments to the list of pupils highlighted for deletion can be made by selecting the 'Change selections' option.
Once the list is finalised, select the 'Delete Pupils' button.
A final confirmation message will be displayed. Confirm the deletion of the highlighted pupils by selecting the 'Delete pupils' button. The 'Cancel' button returns the browser to the 'Check and confirm pupils to delete' page.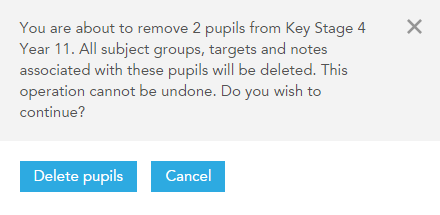 The 'Delete pupils' page confirms the number of pupils which have been removed.